Creative Field Techniques - Working the Scene
Recently, I was in northeast Iowa where rolling green hills of pastures and farms spread out as far as the eyes can see. I wanted so much to capture this beautiful countryside! One day, I found a lookout point where I could view a sweeping vista of the bucolic land scenes. My initial visit was at sunset, but results were lackluster with a sky devoid of color. And my days in Iowa were numbered.
On the last morning of my visit, my expectations of capturing a splendid farm scene were long gone. While drinking my coffee inside the RV before sunrise, I opened the window shade and looked out into the darkness. What I saw made me spit my coffee out with excitement! Dense fog lay thick over the ground. I frantically gathered up my camera gear. I knew exactly where I was going and what equipment I needed. From the lookout point, I would have a 180-degree view to work with and by using a telephoto lens, I could zoom in on various scenes of dense fog interspersed with rolling hills and trees.
Upon arriving, I was ready to play the scene. My photographic vision was to fill the frame with the landscape and create panoramics from multiple shots. A telephoto zoom lens (70 to 400 mm) would allow me to zoom in and fill the frame. Using a tripod, I could easily take multiple shots by panning horizontally.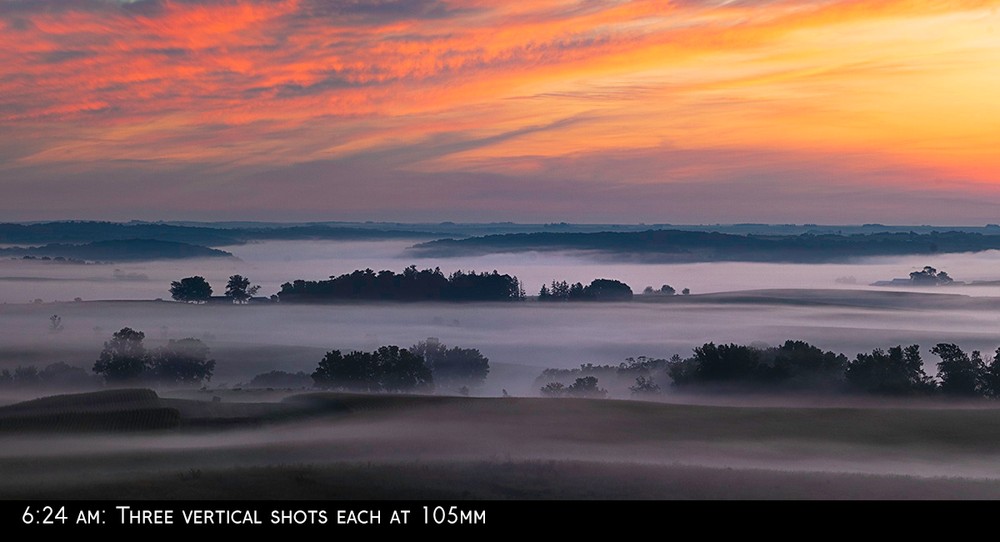 From the lookout point, there were two optimal positions from which to photograph, one facing toward sunrise and the other about 100 ft away on the opposite side of the lookout area with the sun behind. I began with the sun in front of me. My first shot (the image above) was taken about 15 minutes before sunrise. For the next several minutes, I changed the compositions by zooming in and out, going back and forth between vertical and horizontal camera positions and standing in different positions. The next three images were taken shortly after the first one.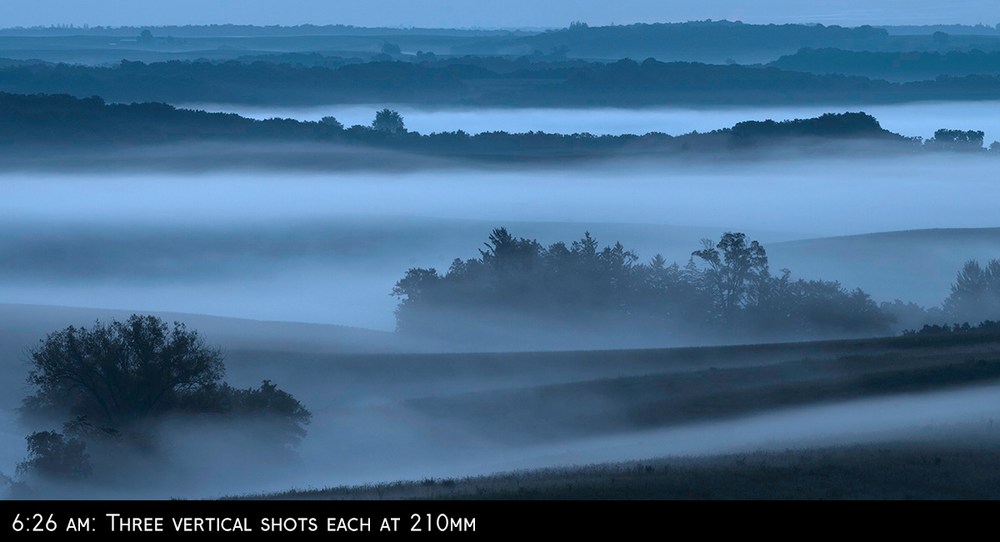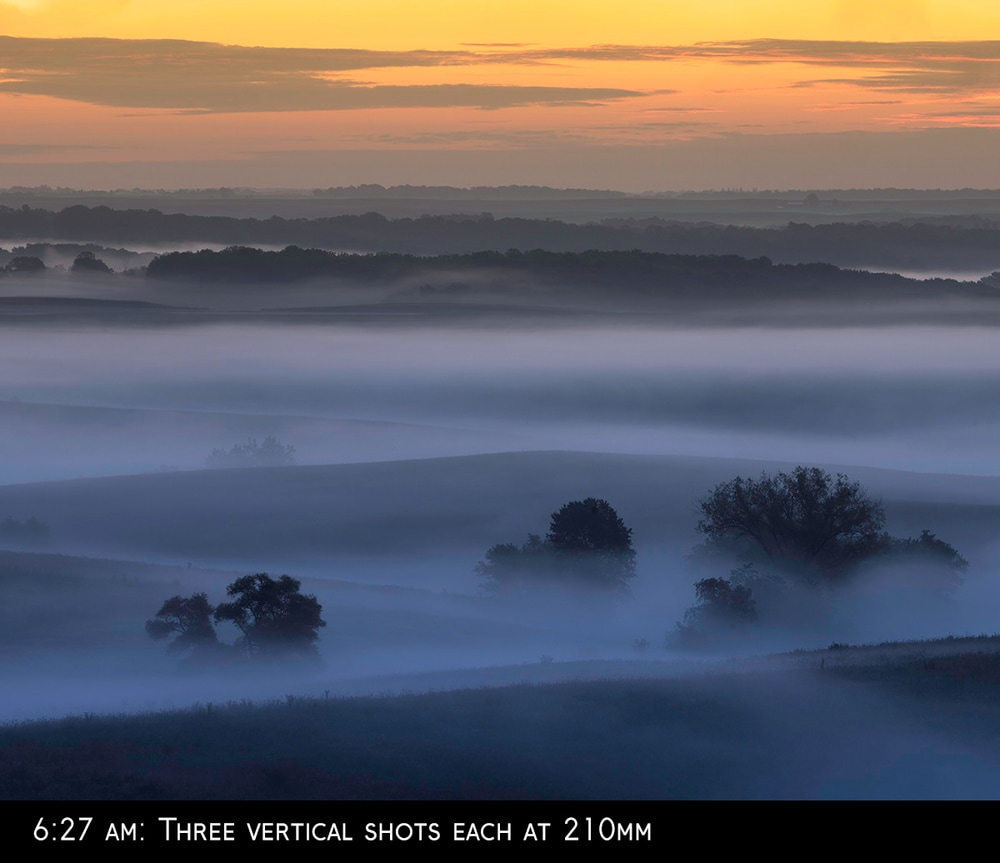 After several minutes of facing the sunrise, I walked to the opposite side of the point for a change in lighting and composition possibilities. From there, I captured the next two scenes.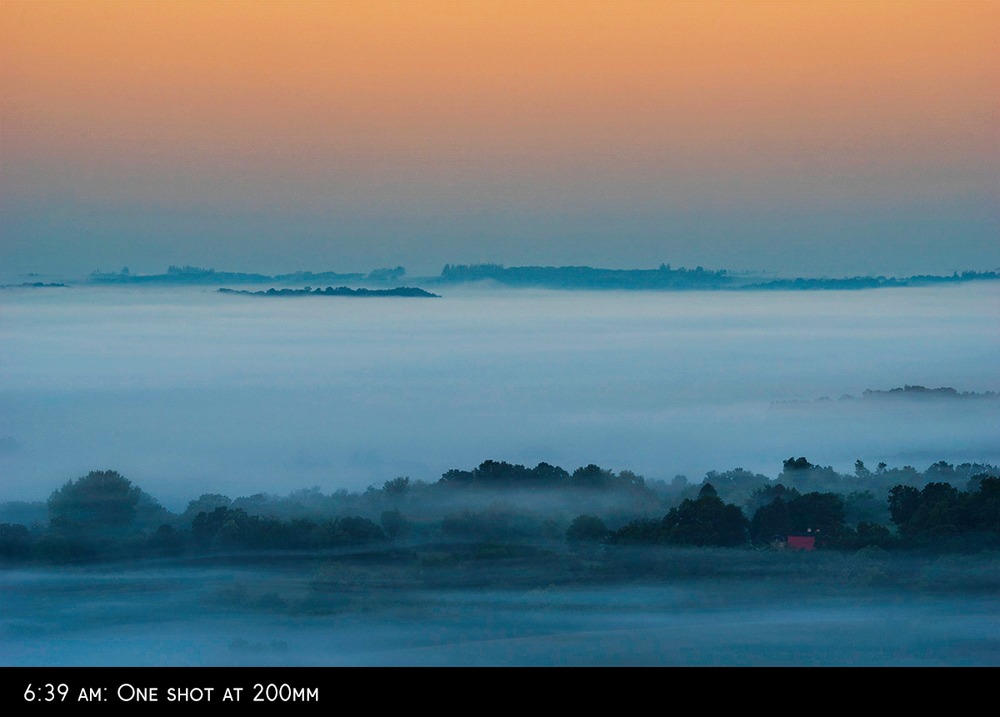 I kept looking over my shoulder to keep an eye on the sunrise. A few minutes later, I moved back toward the sun that was now above the horizon and illuminating the fog nicely. Compared to several minutes earlier, the sun light created a significant change in appearance of the landscape, as you can see in the next two images.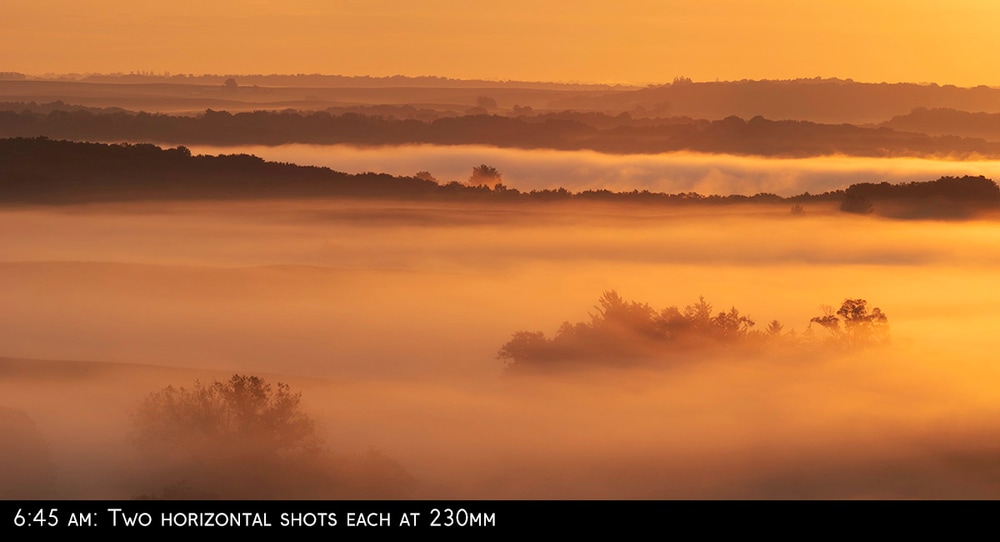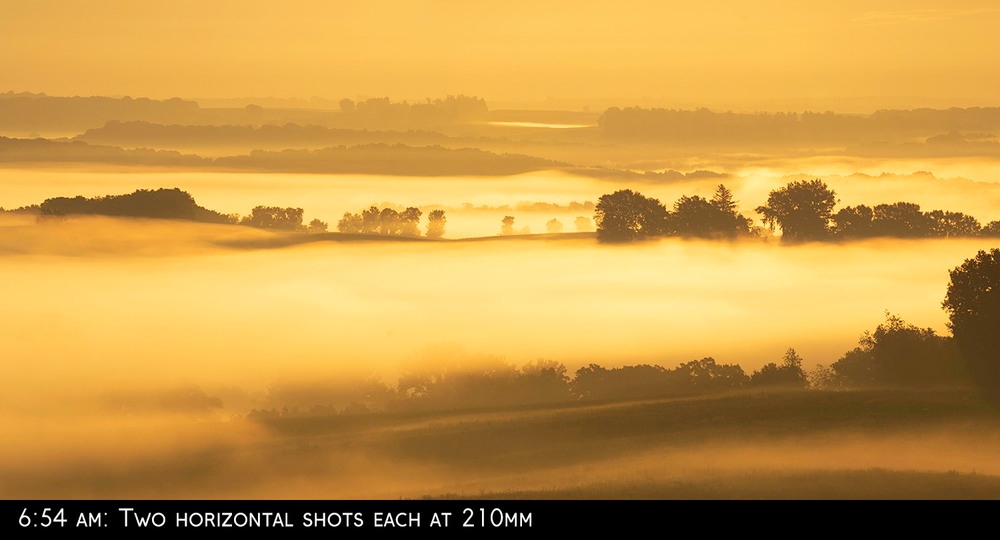 After 10 minutes, I moved back again to the opposite side with the sun behind me. This scene before me was much different than it was earlier. The fog remained dense and appeared like negative space surrounding the trees that barely peeked above it. The next two images illustrate this.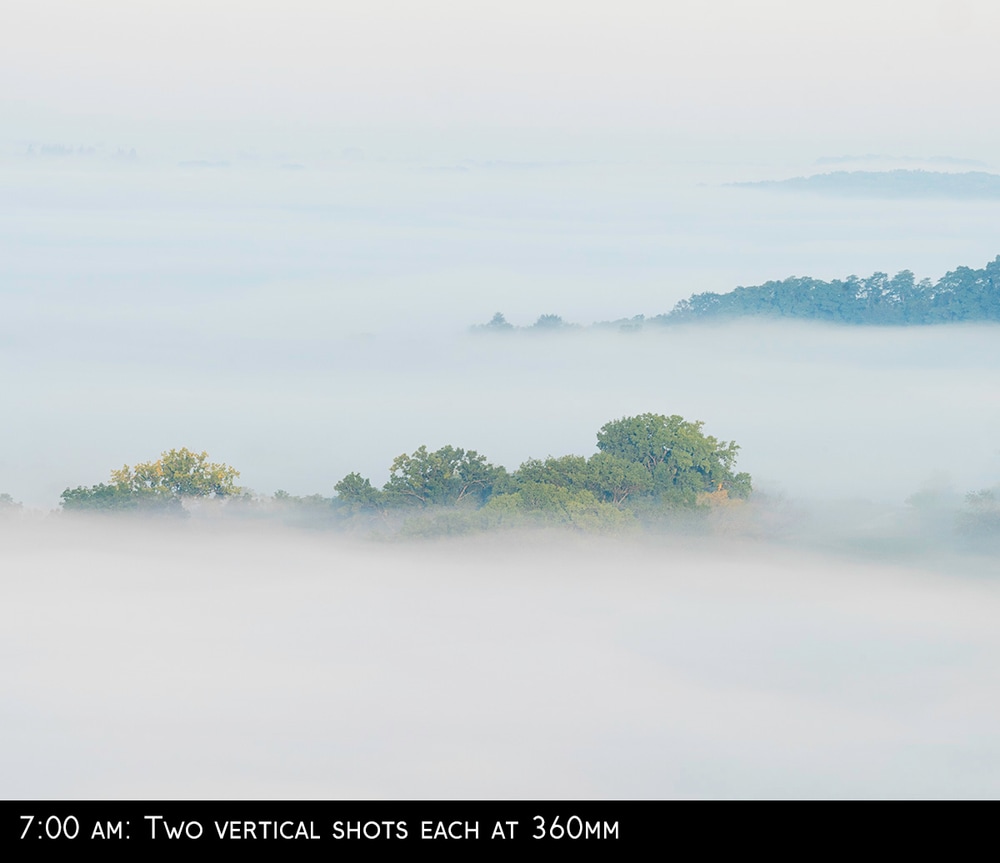 Finally, I moved my position back again toward the sun and by then, the light was harsh. The fog continued to hang heavy as I took one last shot. In the image below, the water tower stood over the town of Elkader, a charming community where I parked my RV for 10 days.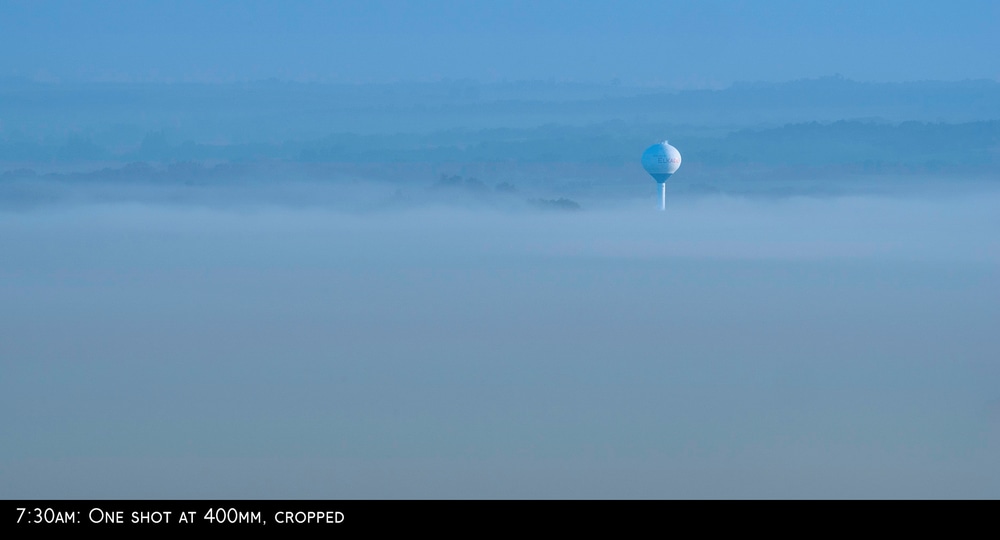 Within an hour, I had witnessed dramatic changes in lighting and had the ability to create endless compositions with varying light and fog conditions. With a sweeping view of the farm land, I could compose different scenes with various trees in the foreground and background, I could zoom in and remove the sky or zoom out and keep the sky in the frame, and I could choose the number of shots to take to create a single panoramic image. Even better, the fog continued to lay heavy over the land but changed continuously. This allowed me to shoot the same scene several times but with a different appearance each time.
Essentially, I was working the scene. To work the scene and capture as many great photos from one location as possible, here are a few tips that can apply to just about any situation you find yourself in.
Point of view. Move around, look behind you, look high, look low, but more importantly, don't just stand in one spot. From these images, you can see a dramatic difference between the sun-in-front shots and the sun-behind shots.
Focal length. Using a zoom lens provides many focal length options. This is an excellent way to turn a wide-angle scene into an intimate one, or a way to fill the frame when objects are far away. Large focal lengths tend to compress the scene, which is preferable when overlooking a large distance of hills or mountains. But more importantly, zooming in works well for any landscape scene where the points of interest are very far away.
Time. One hour doesn't seem like a lot of time, but when it begins before sunrise and ends after sunrise, the changes in color and light can be dramatic. From one minute to the next, the appearance of the subject can be altered noticeably.
Panning. With the ability to pan, three or more images (typically when the camera is vertically positioned) can be stitched together in post-processing. By doing so, the composition possibilities are endless. This works very well with a telephoto lens because it lacks the wide-angle distortion that comes with short focal lengths. Because of this, stitching together images from a telephoto lens is much easier. Be sure the camera and lens are level with the ground before panning. And the bonus that comes with successfully stitching several images together is you may find several cropped versions within one panoramic scene. You'll have a very large file to work with, so cropped versions can maintain high resolution. For example, here is one cropped (3:2 aspect ratio) from as image above (2:1 aspect ratio).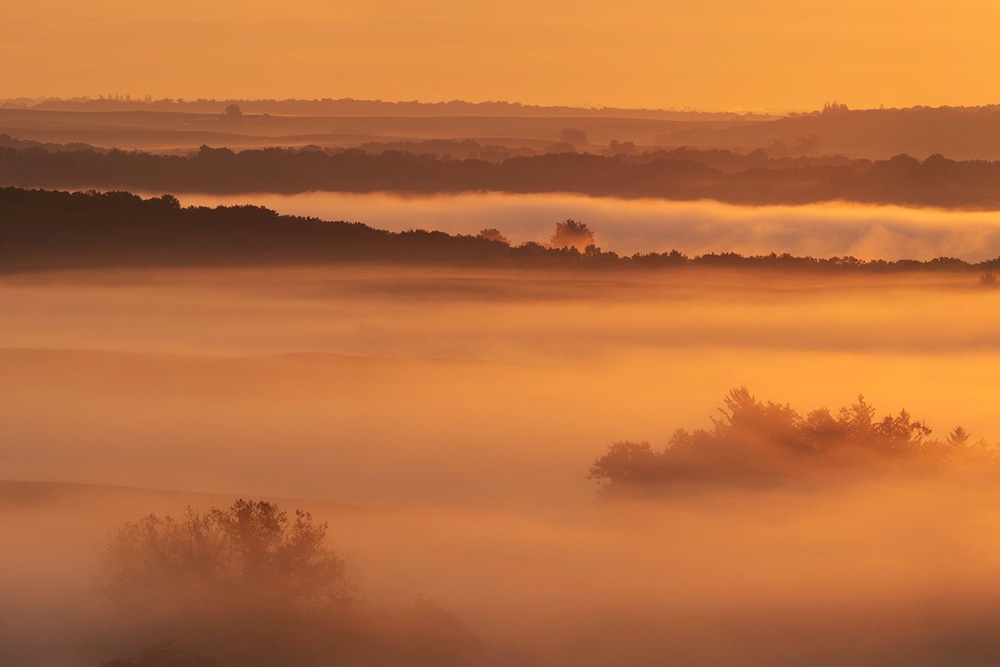 Regardless of the location, when you find a treasure trove of photographic possibilities, take your time, look around you, observe the light and look through the viewfinder to compose. And more importantly, have fun and work ( or play!) the scene.
I have lots of great information concerning use of the telephoto lens for landscapes and other useful tips relating to this blog:
Video: Using the telephoto lens for panoramic landscapes
Blog: Telephoto lens for panoramic shots
Blog: Photoshop Technique - Photomerge
Video: Three easy methods for creating vertical compositions
And last, here are links to the equipment used for this shoot:
Sony SAL70-400mm a mount f/4-5.6 G lens
Jobu Gimbal head with arca swiss quick release plate
If you are interested in learning more about camera or editing techniques, I offer individualized instructions in the field as well as in Photoshop. Please visit my website to learn more about these workshops or contact me at bigcypress214@yahoo.com with any questions you may have.