Creative Field Techniques - Photographing the Badlands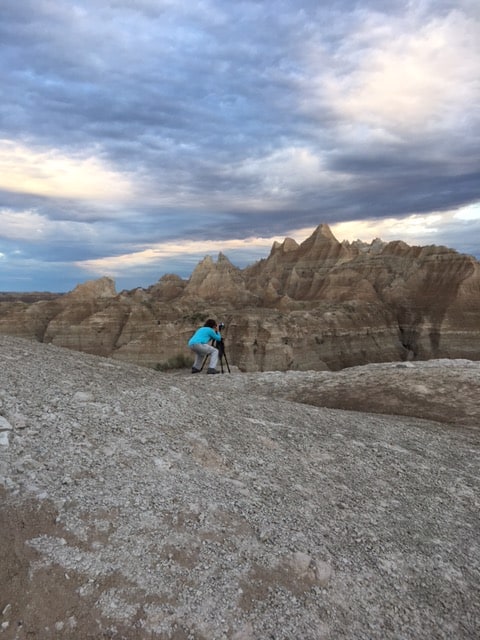 Prior to my arrival, I researched images from the Badlands and read a few "Where and how to photograph…" blogs. As I perused dozens of images, I saw expansive views and exquisite rock formations. While those panoramic vistas are eye catching, it was the more intimate images that emphasized the shapes and contours of the rocks that piqued my interest. But it really was not until my feet hit the rocks that I learned the nuances of the Badlands. I'll share with you what I learned and experienced, and hopefully, you too will one day photograph the Badlands.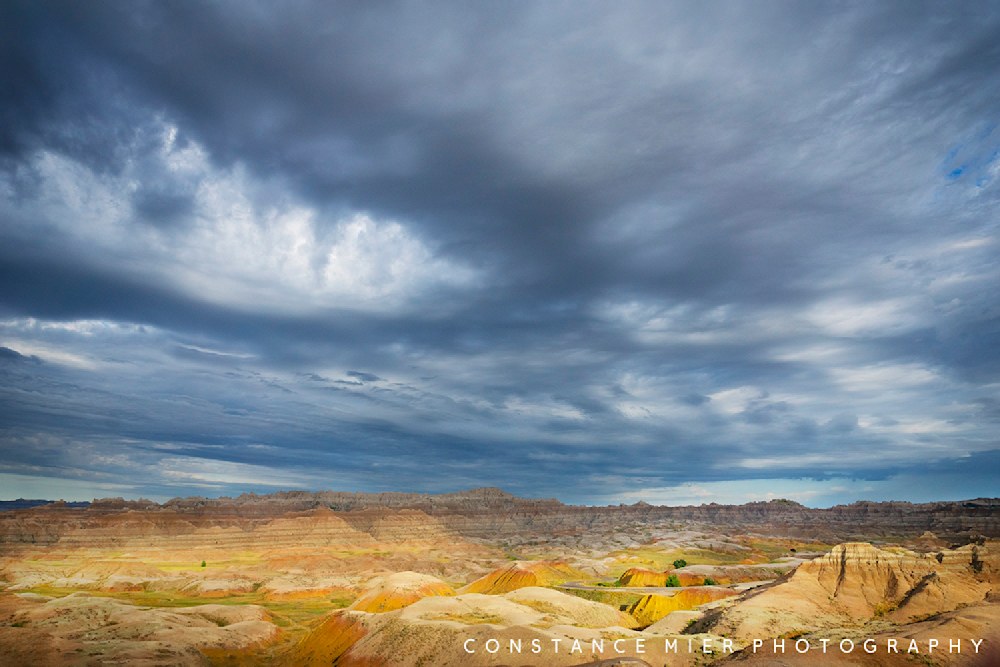 Get out early, stay out late. This is not unique to the Badlands, but the best time to photograph is during those hours when the sun casts a warm glow on those rocks. The image above was shot right before sunset. Good opportunities can carry into the day; however, the higher the sun, the more difficult it is to capture the Badlands well. A polarizing filter can help and consider the harsher contrast between brights and shadows as potential for black and white images.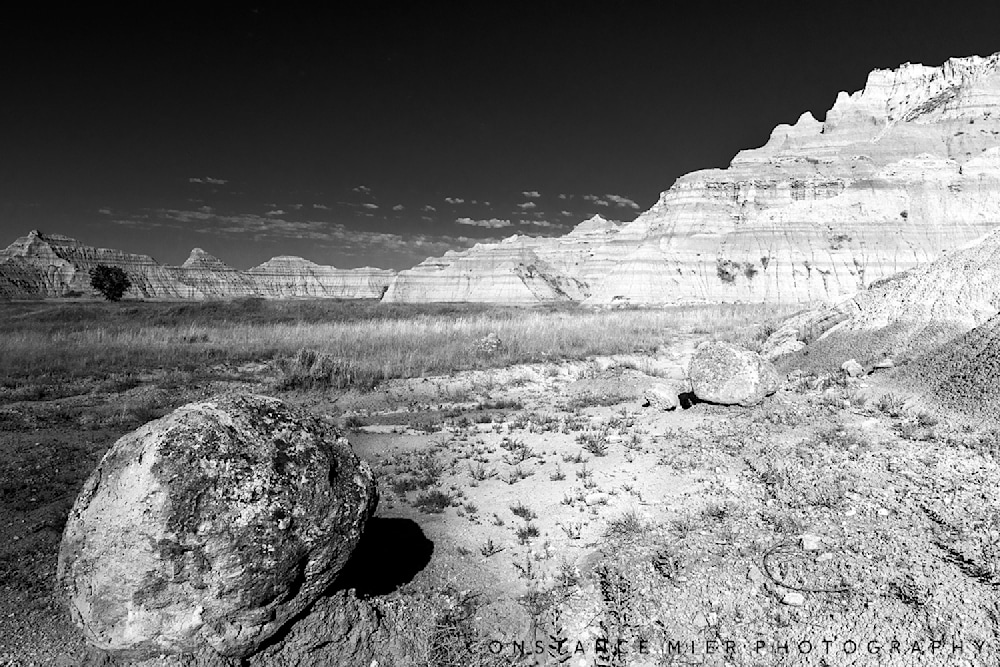 Pay attention to weather. Once again, this is not unique to the Badlands, but typically if wide angle vista images are what you are after, you want something in the sky, be it dramatic storm clouds or colors. You also want to have sun light on those rocks. The image below illustrate this.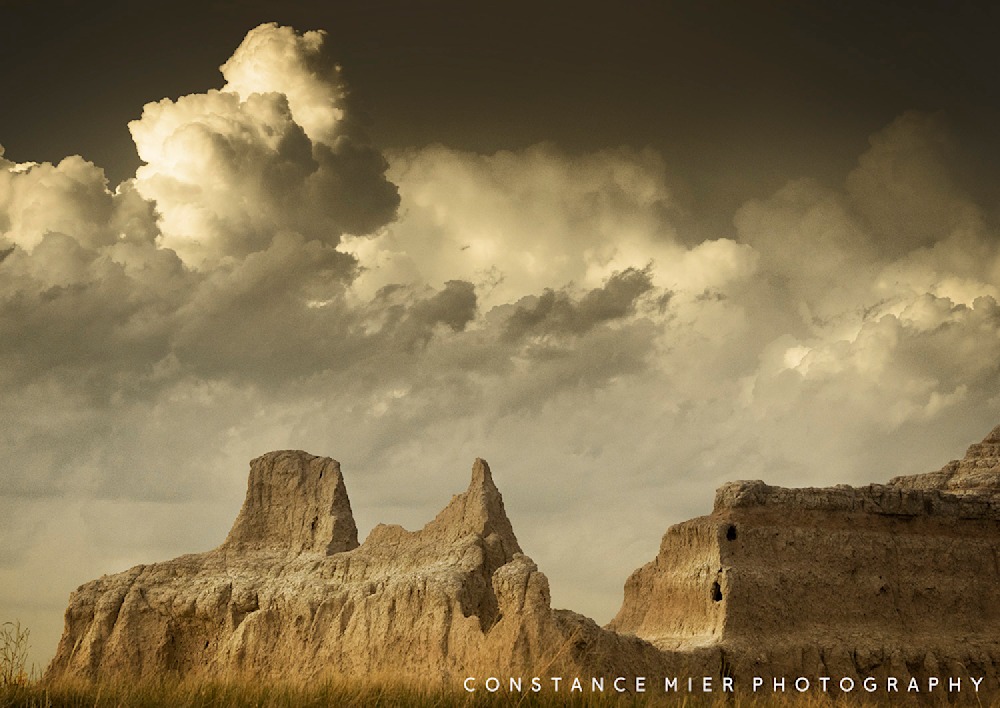 Sky events. You want to take advantage of the big sky. An sky view app (Sun Surveyor, for example) can help you determine the position of the sun or some other sky event relative to a location. As well, the Badlands has great potential for night photography including the Milky Way. In my case, I took advantage of the full moon setting right around sunrise (my favorite sky event!) as you see in the next image.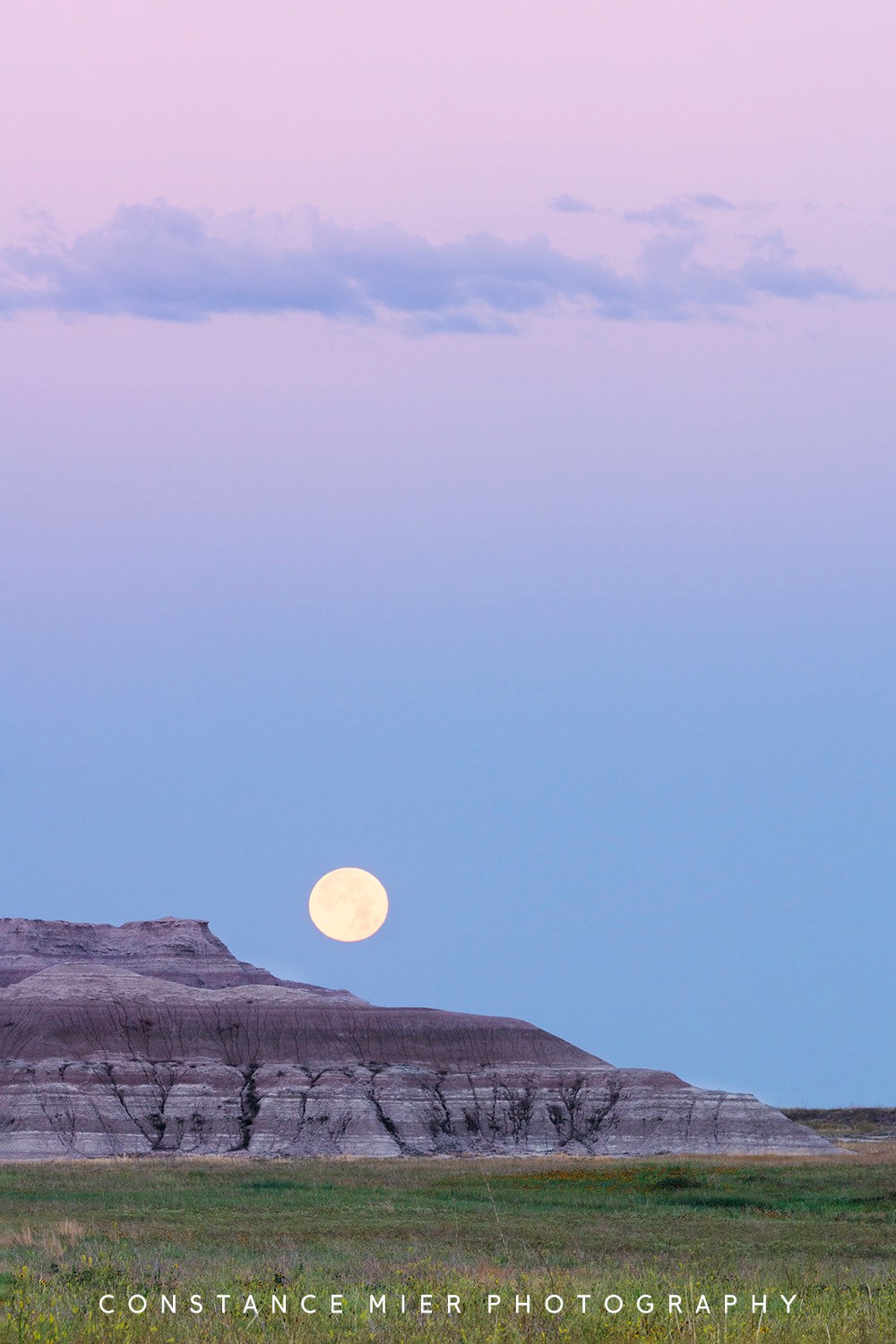 Direction of light. The Badlands is full of interesting shapes and contours. Keep the sun at an angle, to your left or to your right. The sun light hitting the rocks from an angle accentuates them and creates shadows that add depth and contrast.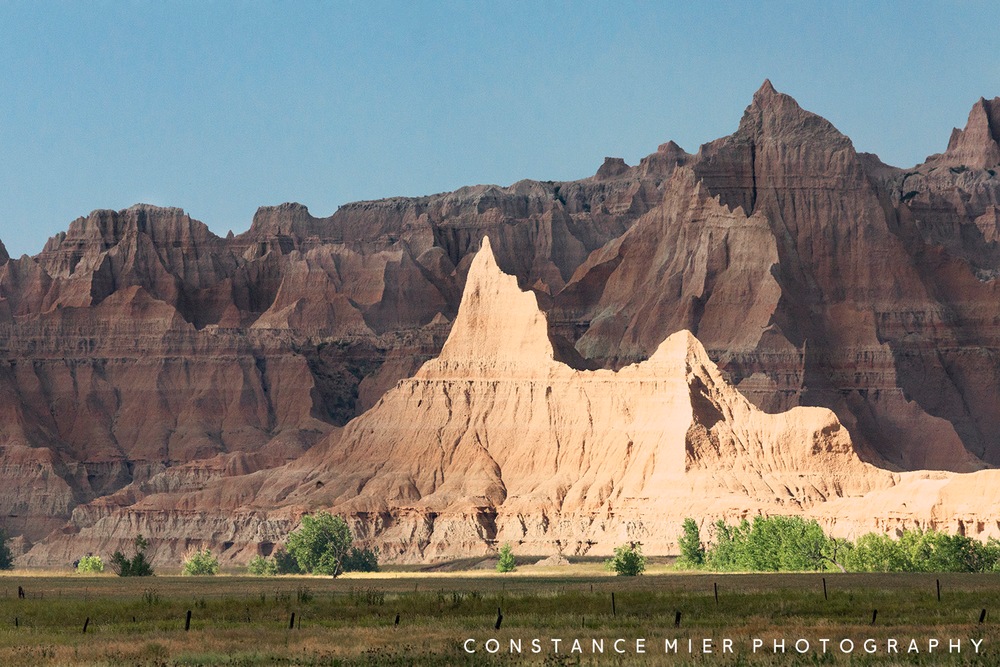 Clouds. I already mentioned that clouds covering the sun makes things a bit dull. However, clouds in the sky can add so much to the scene. When there are many clouds moving across the sun, it can get even more interesting. This will cause the rocks to light up selectively as the clouds partially cover the sun light. This alters the look of a scene dramatically. Look at the two images below, shot within a minute of each other.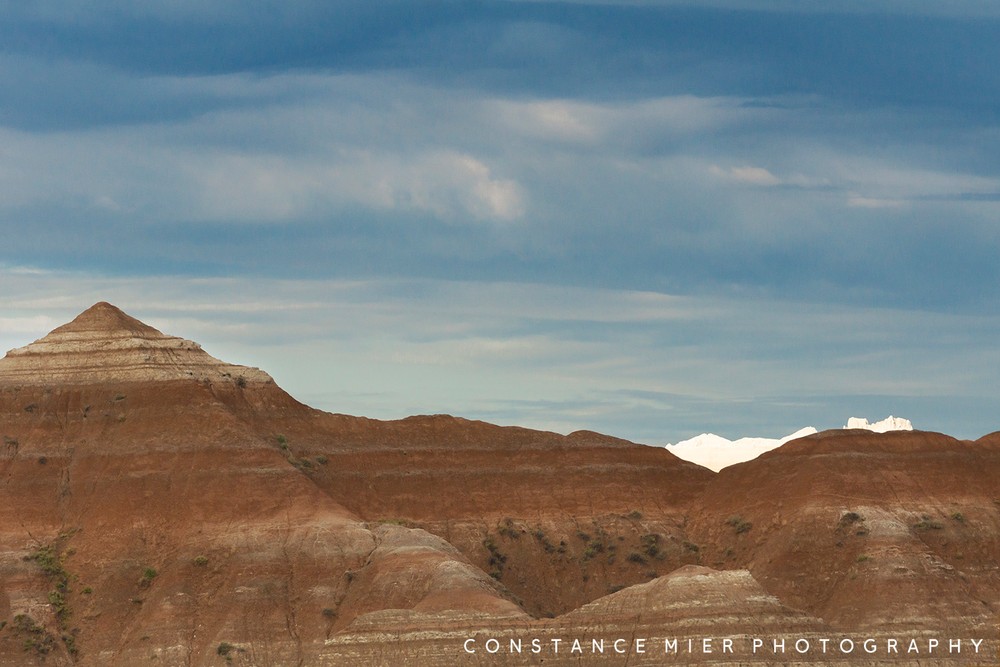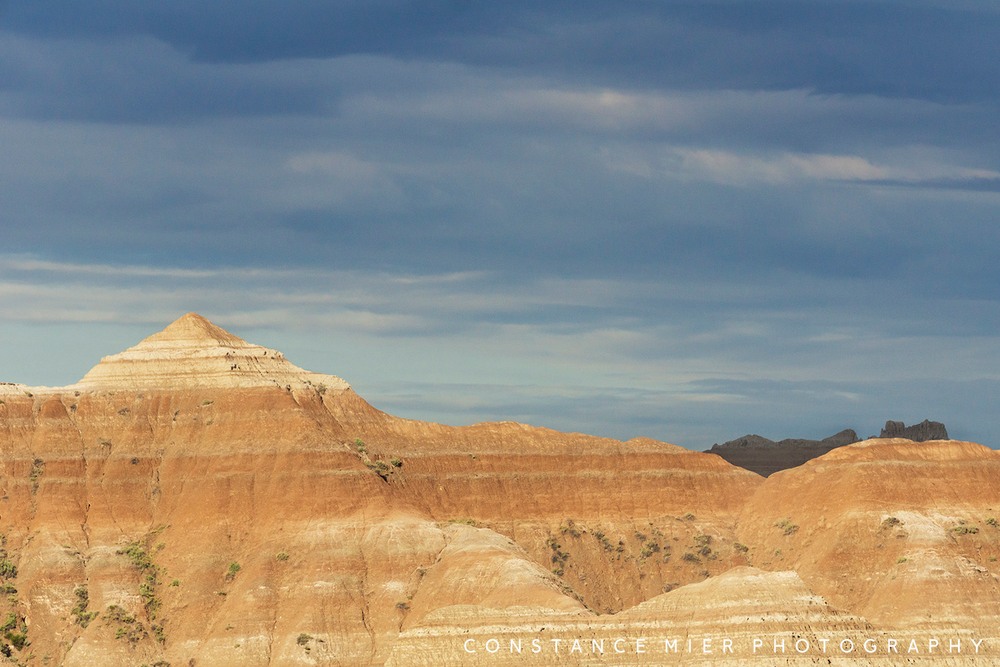 Focal length. The greater the range available to you, the better. There are so many possibilities to capture wide angle images, but mostly, you are going to want to zoom in on those exquisite rock formations. I zoomed in with the telephoto lens to capture the image below.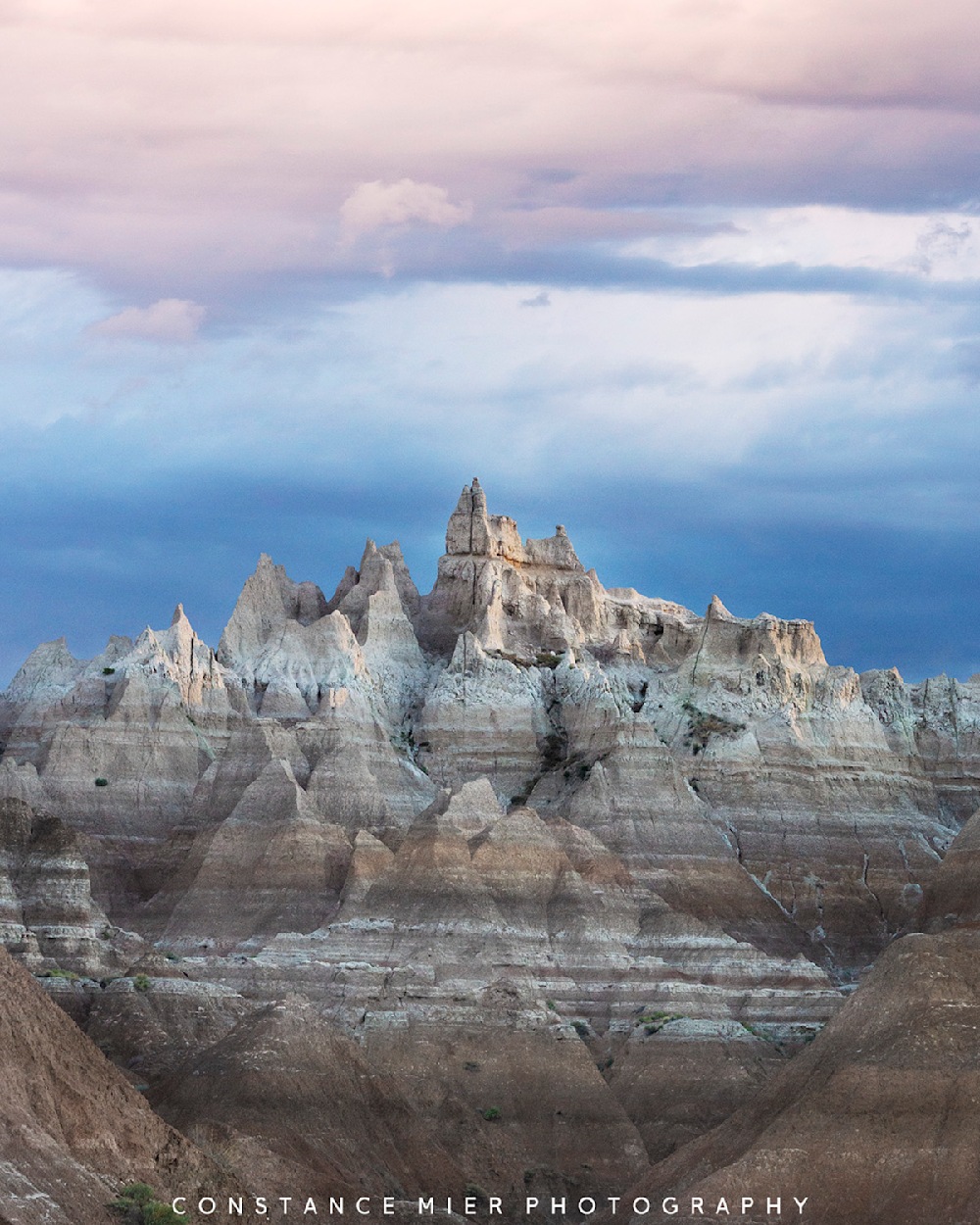 Changing terrain. This was an amazing thing to witness. The national park's scenic drive (moving west) begins in deep canyons surrounded by severe and dramatic rock formations and gradually opens into mixed grass prairies. In between, you will notice the rocks change in appearance; they become fewer, flatter, smoother and more colorful. The three images below illustrate these changes.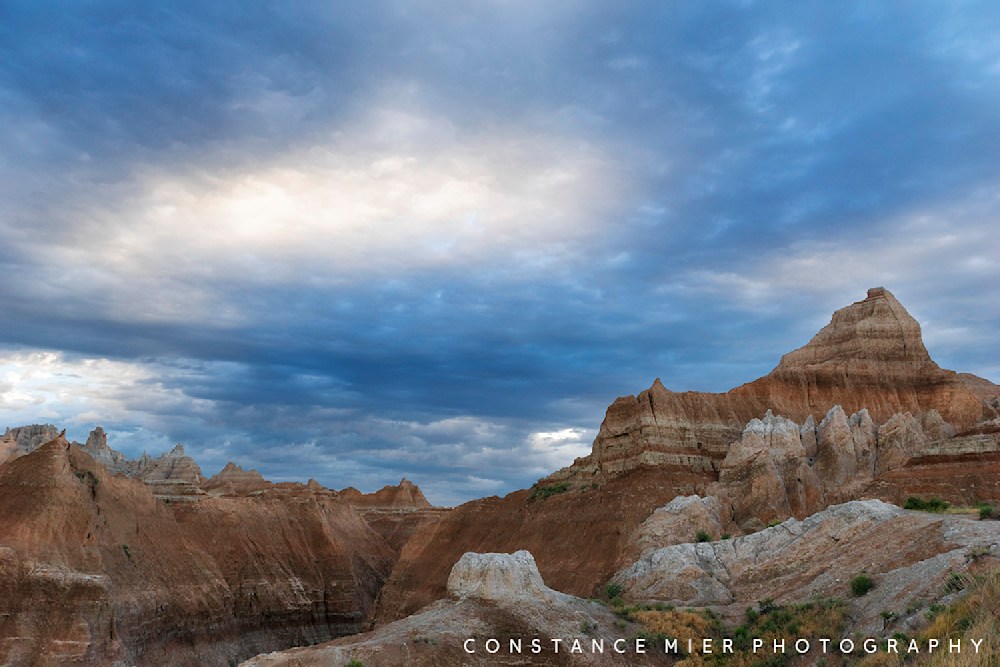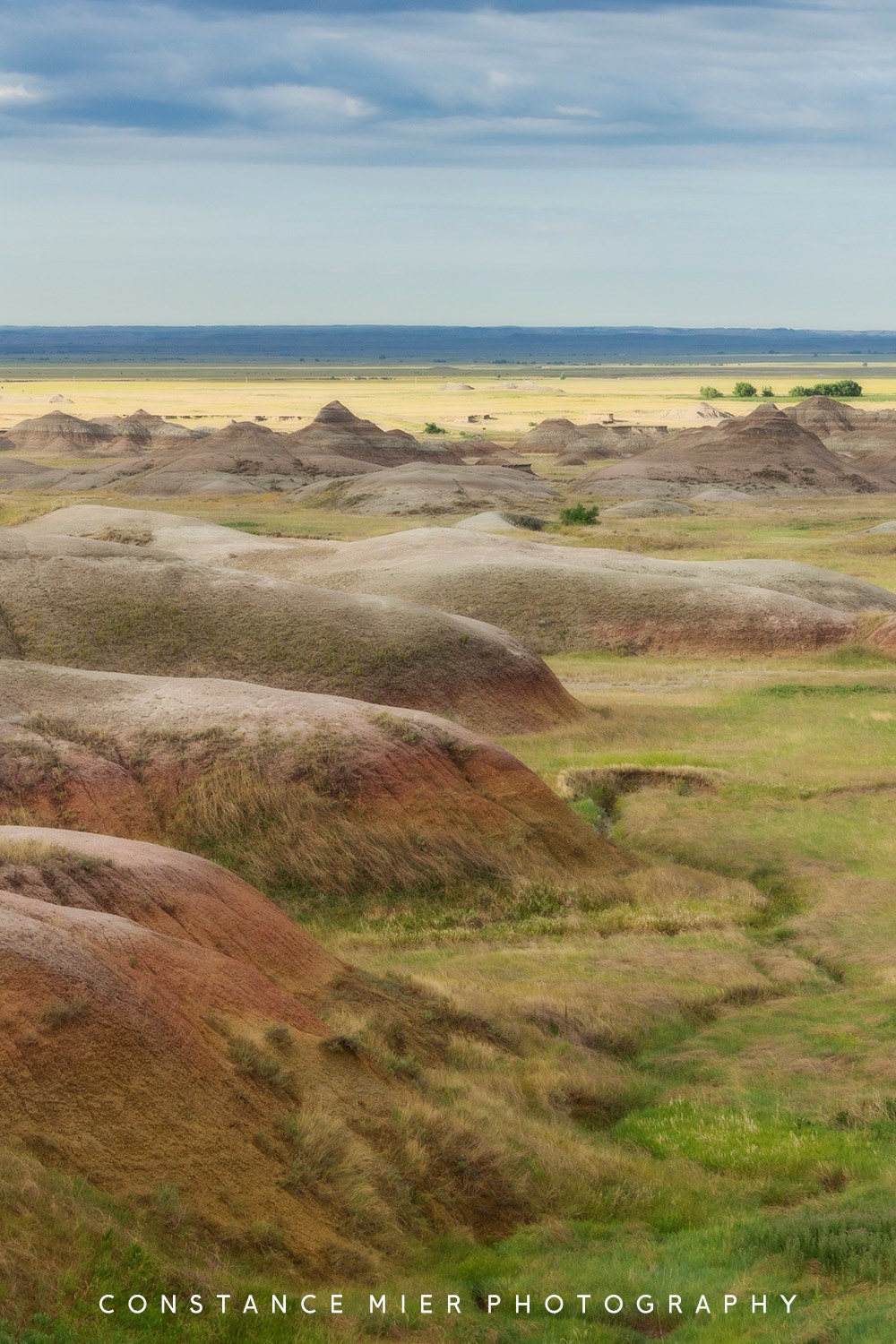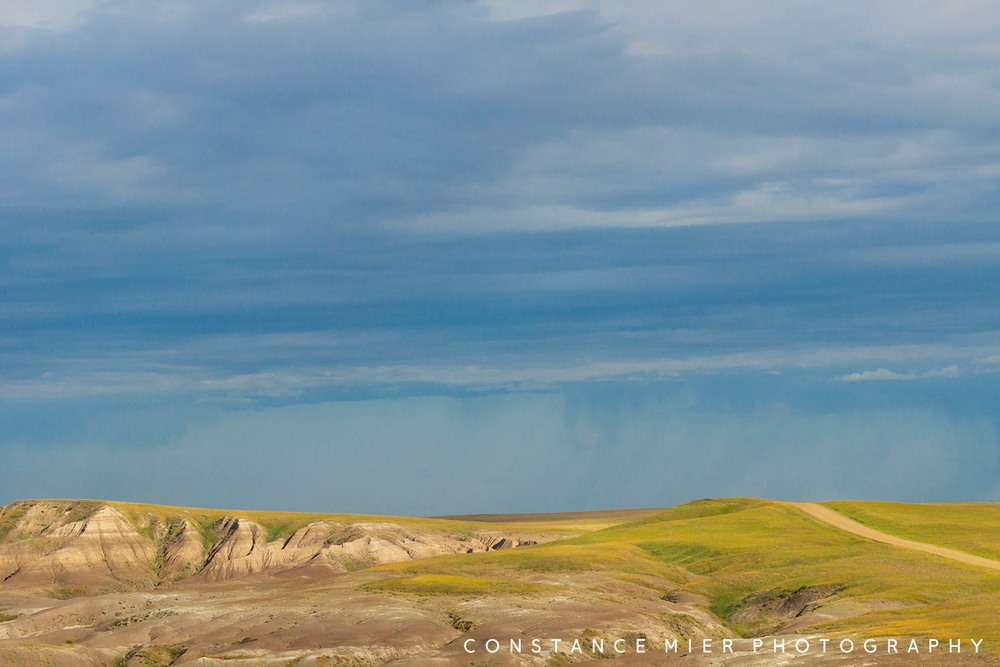 The animals. My experience was that I did not have to go out looking for them, they came to me along that scenic drive. Bighorn sheep, bison and prairie dogs represented here.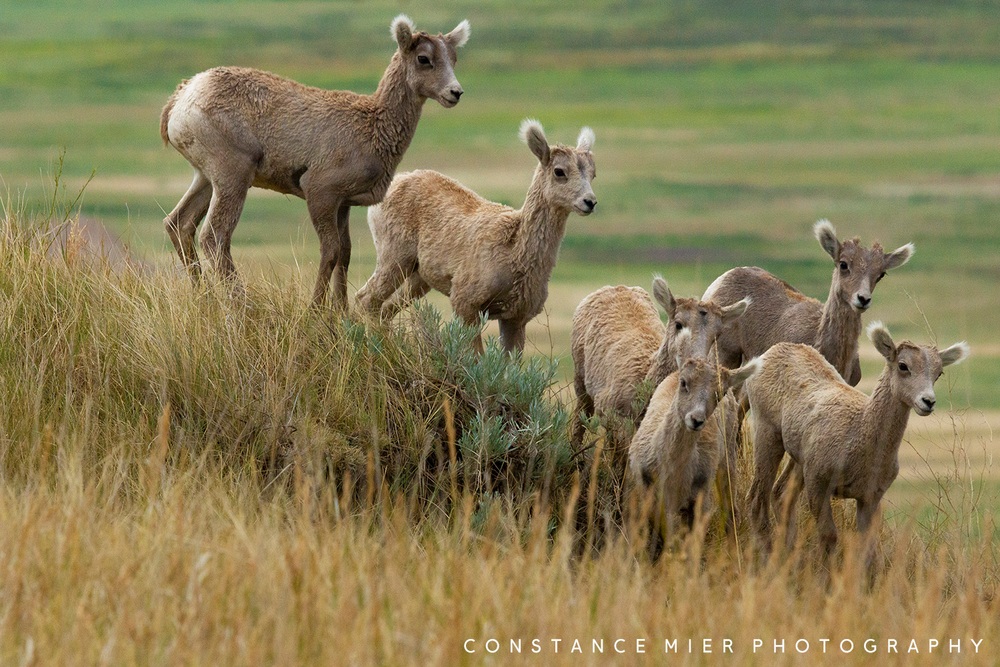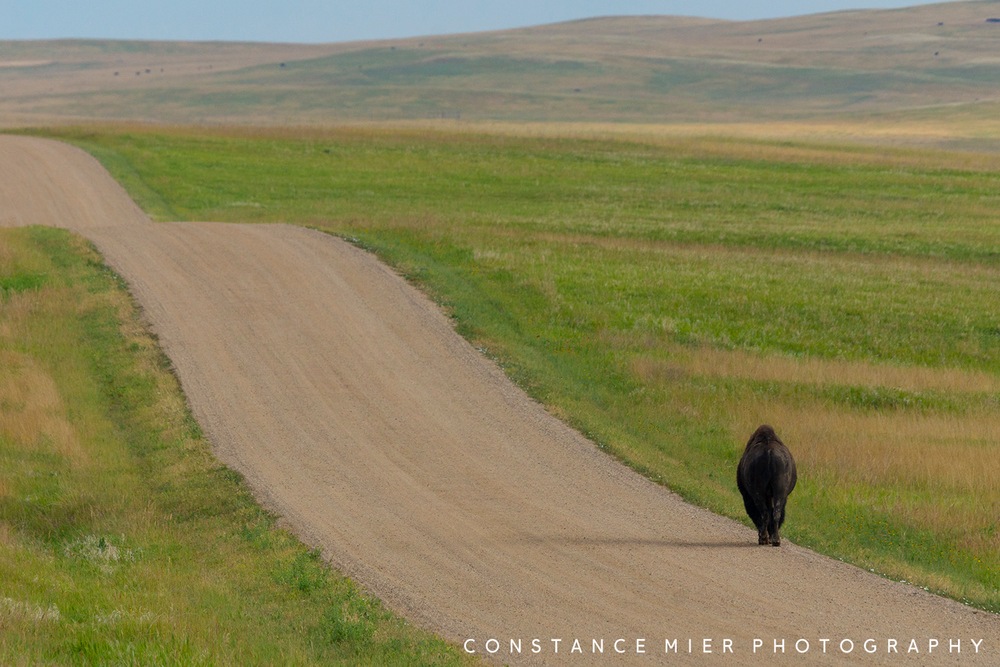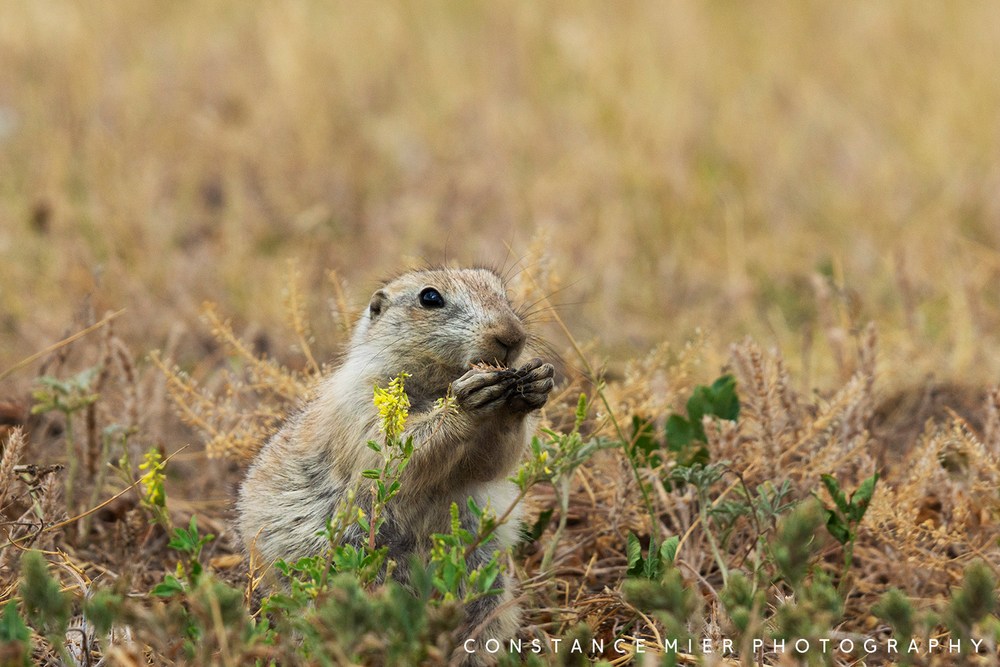 Time. I had 4 ½ days in the Badlands and I could have spent another week or two easily without getting bored. You really need one day to get the lay of the land, which means driving the entire scenic drive through the park. I highly recommend at least three full days. As a photographic subject, the Badlands is overwhelming and you will feel like a kid in a candy store.
Locations. The drive has numerous pullover locations. Although I will say it was frustrating many times when I came onto a scene I wanted to photograph and there was no place to pullover! But there are plenty of places to park safely, some are designated and have large parking areas (overlooks and/or trailheads), but many others provide space only for one or two vehicles to park. Unfortunately, you can't just leave your car alongside the road and walk in because much of the terrain consists of deep canyons or crevices. If you do want to hike, stick to the designated trails.
Crowds. You will see people at the designated trailheads and lookouts and cars will congregate where there are wildlife. If you really want to avoid people, go early. I photographed two mornings at one location and saw one car drive by each day. Toward sunset, designated locations can be crowded and one evening I was hard-pressed to photograph a scene without a person in it. But, the park is large enough that you can avoid people easily. One morning I drove the entire scenic drive starting at sunrise and cars were few and far between during the first couple hours. And you will surely see wildlife. At one point, I spotted a herd of bighorn sheep and spent an hour photographing them with no people to interfere.
Stay over in or near the park. There are plenty of campgrounds (for tents and RVs) both inside the park and nearby. I stayed at a KOA in Interior, about 7 miles from the park entrance. This was fortunate because I found a location outside of the park to photograph the full moon. Although on private land, I was able to pull off to the side of the road and capture it. Here's another image from that same spot.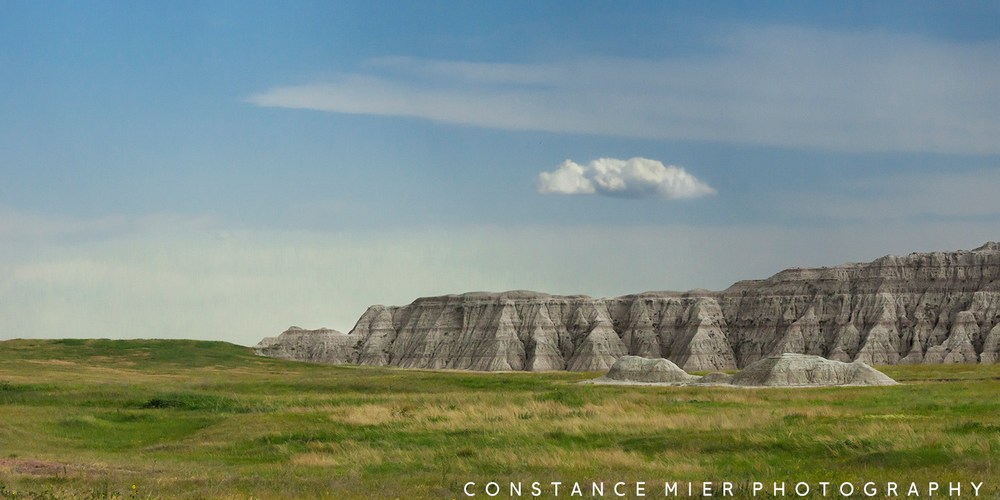 So much to photograph, so little time! That about sums up the Badlands. If you're going to head out to the Badlands, you may as well include the Black Hills.
If you want to read more about my RV travels, check out my travel blog, Changing Views from our RV. And if you are interested in learning more about camera or editing techniques, I offer individualized instructions in the field as well as in Photoshop. Please visit my website to learn more about these workshops or contact me at bigcypress214@yahoo.com with any questions you may have.